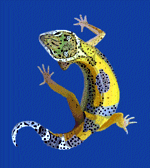 Welcome
This website is dedicated to my leopard geckos.

I've tried to keep my site simple and informative from when you first get them, feed, care to breeding. I'm a novice owner myself but hopefully within the next two years I'll have leopard gecko offspring of my own for sale.

I hope you find this helpful and good luck with your own. Feel free to email me any questions you have. Here and there some of the info I have on site was from being asked questions and largely my own research and caring for my own leopard geckos since 2004.

My Other Sites

Everything I could possibly know about my fire belly toads from care, feeding, tanks to raising tadpoles.

Everything from my back yard as a hobby to building terrarium and vivarium tanks and all the critters and plants between.

Sites I'm working on to come:
Feeder Caresheets