Bombina Orientalis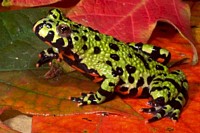 Welcome
This site is dedicated to my own fire belly toads, Bombina orientalis. Fire belly toads make excellent pets for the novice or experienced, children or adult. They're very hardy, diurnal and fairly low maintenance as a semi-aquatic pet and can live up to around ten years and even longer in good care.

As adults they reach less than 1.5 to 2.5 inches. They're mostly a mottled black and green which is able to darken or lighten in color rather quickly for any number of reasons from humidity, temperature, stress, camouflage, mood, illness, diet or any combination thereof. Their undersides have a much brighter coloration of swirling, pattern blacks in red to orange as a warning to predators they don't taste very good. If they can't flee, they defend themselves by rolling on their backs to expose their belly side.

Fire belly toads do have a low level of toxicity, so it is best not to have to handle them very often. They can be moved using a fish net or small cup and their tank should be changed of its water every so often, depending on the size of the tank and how many bombina are in it. Because of the toxicity it is also best that these toads live among themselves and never share a tank with any other type of animal. It wouldn't take the toxicity long at all to end up killing the other critter. Washing one's hands after touching them should take care of one's self, though there are rare cases of developing itchiness and minor rash as a bad reaction to their natural toxins.